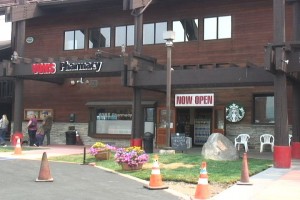 ARREST MADE IN THE VON'S PHARMACY BURGLARY CASE  (MLPD Press Release)
On Tuesday, October 29 the Mammoth Lakes Police Department (MLPD) arrested a suspect in the recent burglary of the Von's Pharmacy in the Minaret Mall.
After following up on leads, MLPD Detective Doug Hornbeck and Officer Andy Lehr served a search warrant at St. Moritz Condos, #13.  They recovered evidence at that residence and arrested Christopher James Powell, 21, of Mammoth Lakes.  Powell was a Von's employee and had been working as a cashier in the satellite store that included the pharmacy.
MONET agents assisted in the investigation and service of the search warrant.  They also arrested Randy Rojas, 27, of Mammoth Lakes at the same residence.
Powell was booked into the Mono County Jail.  His charges are 459 PC/Burglary, 135 PC/Destroying or Concealing Evidence and an outstanding warrant from San Bernardino.  He is currently being held at the Mono County jail and his bail has been set at $20,000.
Rojas was released on a citation for 135 PC/Destroying or Concealing Evidence, 11364 H&S/Possession of Controlled Substance Paraphernalia and 11357(b) H&S/Possession of Marijuana.
According to Mammoth Lakes Police Chief Dan Watson, prescription drug abuse has become an epidemic and statistics show that approximately one third of those affected are juveniles between 12-17 years old.  The growth in prescription drug abuse has resulted in a large increase in overdose deaths nationwide.  The abuse of prescription pain pills has increased heroin abuse because it is cheaper than buying pills.  Many prescription drugs are diverted into the streets via thefts from pharmacies.  Prescriptions drugs, especially pain killers can be just as addicting as heroin, but are generally more expensive on the illegal market.  So, those who have become addicted to prescription drugs frequently begin using heroin.  The Mammoth Lakes Police Department, along with our allied law enforcement agencies and MONET, will continue to aggressively work to combat the illegal diversion of prescription drugs into our communities.