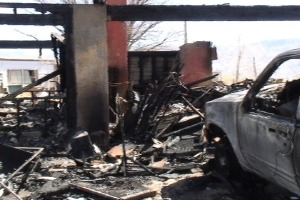 Local firefighters have been kept busy recently, including over the weekend in Big Pine and Monday in Bishop. One fire in Big Pine produced a couple of real-life heroes.
Galen and Veronica Moore of Big Pine helped save the lives of two Big Pine residents Harold and Daniel Pierce, whose home was engulfed in flames and didn't know it until the Moores alerted them.
The harrowing story unfolded Saturday about 10 am.  Sierra Wave's Bill Lefever talked with the Moores and the Pierces about the destructive blaze.  The Moores said they saw smoke, ran toward it, and saw the Pierce home fully engulfed with flames.  The door knob was too hot to open, so Galen Moore started yelling, grabbed a metal bar and broke the door open.  He went inside and started to break out the windows to let the smoke out.  Moore continued yelling "house fire".  He didn't know if anyone was in the house.
Harold Pierce woke up.  He made his way down the hall, sustained some burns, and yelled for his grandson, Daniel.  He woke up, was
nearly overcome by smoke but did escape.  Then it was time to think of saving valuables.  They chose an antique piano and dragged it out.  That was it.
Big Pine Volunteer Fire Chief John Marzano said no foul play is suspected and the cause is under investigation. A couple of causes are possible. There were concerns about the fire hydrant closest to the residence. Marzano said he had previously asked for the outdated 4-inch main to the fire hydrant to be replaced.
Chief Marzano said 15 Big Pine volunteer fire personnel were on scene, and later in the afternoon were back at the fire station restocking the fire trucks when another fire call came in – this one at Indian Camp where a camp trailer was ablaze. The flames jumped the roadway, but Big Pine firefighters were quickly on scene and held the fire to about 15 by 20 feet.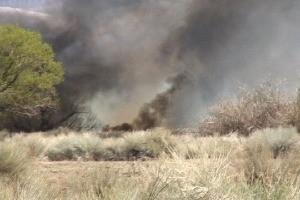 Monday morning, about 11 am, Bishop Volunteer Fire Department personnel were called to a  vegetation fire on J Street. Bishop Fire Chief Ray Seguine said when crews neared the fire, they realized it was about one mile southeast of Bishop, in state-responsible land.
Bishop firefighters :"pinched it off pretty quick," Seguine said, despite a fairly stiff northeast wind.
The blaze was pushing toward the Amerigas tank farm on Casbaugh Lane, burning in Rabbit brush, which caused heavy black smoke.
Four rigs and 12 Bishop Volunteer Fire Department personnel were on scene, and had a line contained by noon.