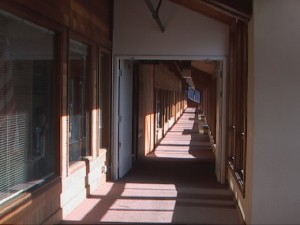 As Town of Mammoth officials continue to meet in private with Mammoth Lakes Land Acquisition over the huge airport lawsuit debt, members of the public ask anxiously when they will know more.
Financial Advisor Marianna Marysheva-Martinez told Sierra Wave that any negotiation process, whether it's over development, unions, or, in this case, a major debt, must remain confidential.  In fact, the Town of Mammoth and MLLA signed a mutual confidentiality agreement.  From the beginning, both sides have agreed not to speak publicly about the nature of their private talks and negotiations.
So, when will officials include the Mammoth public in the debt issue?  Martinez said, "We believe by the end of December at the latest we will have a draft settlement or close to that stage.  If not," she said, "it will not make sense to continue negotiations."
Martinez and Town Manager Dave Wilbrecht met with Jay Becker of MLLA in Santa Monica on Monday.  The officials discussed the terms of the settlement.  Mammoth now awaits a reply from MLLA.
Martinez said that the Town Council has made it clear and its an accepted fact that there is no intention to cut the public out of this issue.  "It's a very serious issue," she said, "and a huge amount of money.  We need public input."  When a draft agreement goes public, Martinez said there will still be a chance for input.
Meanwhile, interest on the original $30 million debt continues to add up at 7% annually.  Martinez said the debt now stands at somewhere around $42 million.  Mammoth expects to hear something from MLLA before November 10th when the current, 30-day standstill agreement expires.  This agreement guarantees that during each 30-day period Mammoth will not file bankruptcy and MLLA will not try to collect the debt.