Roads unpaved in Inyo County revealed the north-south pull for money and the complex and ineffective state bureaucracy that very slowly hands out money for road improvements.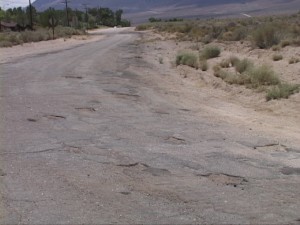 At this week's Board meeting, Acting Public Works Director Doug Wilson reported to the Supervisors on projects they could accept. Supervisor Richard Cervantes said he had serious reservations since "all the projects are in and around Bishop." Cervantes said his southern Inyo district includes roads that are "beyond repair. They've been patched so many times."
Wilson said there are ongoing, long term projects earlier approved by the Board. Cervantes said projects in his area were de-listed and de-funded. "The further south you go," said Cervantes,"the less roads are maintained, even though we generated a great portion of the revenue."
Board Chair Linda Arcularius shot back that current projects were prioritized for years and years. She said she has seen roads in her district un-maintained for as long as 25 years.
Acting Director Wilson said that the California Transportation Commission had removed the Lone Pine Town Re-Hab project. "The CTC has a right to okay or reject a project," said Wilson.
Supervisor Jim Bilyeu said that the Independence, Lone Pine and Big Pine town re-hab projects "should be a priority because the roads are rotting away."
Attempting to cross the north-south divide, Supervisor Beverly Brown said, "This is one county. We have to take care of the entire county. They are all our citizens," she said, "Independence needs to be done." Bilyeu agreed and said that it's the county seat.
Chair Arcularius concluded that "there's just not enough money to go around." A common mantra in local government these days.