– Mammoth Lakes Police Department press release
At about 6:00pm, a 911 call was made reporting domestic violence in progress. The female who called for help reported that her boyfriend attacked her, bit her face and then pulled her out of the vehicle on an unknown dirt road.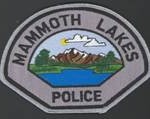 After that the line went dead. The cell phone was pinged and the location given was in Mono County's jurisdiction, northwest of hwys 203/395 on a road leading behind Shady Rest park. As no Sheriff's deputies were currently available in the area, MLPD officers conducted an extensive search, eventually locating the vehicle.
Brandon Shafer, 31, of Mammoth Lakes was arrested and taken into custody without incident. He was charged with 243(e) PC, domestic violence and also 591.5 PC, preventing his girlfriend from using her cell phone after calling 911. Shafer was transported to the Mono County jail.
Then at about 10:20pm, MLPD officers responded to a call for service at the Rafter's bar. The called reported a disturbance that was becoming physical. Officers were met outside by security personnel employed by the bar.
Security told the officers that two subjects had been inside the bar causing a disturbance with other bar patrons. One of the subjects exposed himself to several female patrons in the bar. When security asked them to leave, they began to physically resist. Once outside the subjects were seen urinating on a vehicle in the parking lot.
Upon officers' arrival, they observed the subject running from the scene. MLPD officers chased the subjects on foot and eventually caught them, taking them into custody without further incident. Allan William Holt, 25, an Australian national and Carter Stephan Campbell, 25, from Alberta, Canada were charged with public intoxication and urinating in public and Holt was also charged with indecent exposure.
Campbell's blood alcohol level was .27 and Holt's was .26. Both were driven to the Mono County jail. While en-route to jail, Holt managed to again expose himself, and urinated on his associate while in the back of the police car.
And finally, at about 1:30am while MLPD officers conducted a patrol check at the Rafter's bar they observed another disturbance. Bar security were attempting to escort two male subjects from the bar.
One of the subjects, an 18 year old from Murrieta had snuck into the bar, gotten intoxicated and ended up getting into a fight with other patrons. As officers took him into custody, the subject pointed out his 15 year old brother and said his brother needed to come with them because he was responsible for him.
The 15 year old had been inside the bar with his 'responsible' 18 year old brother. During the booking process the 18 year old physically resisted and two MLPD officers received minor injuries. The 18 year old was charged with resisting officers, public intoxication and being a minor inside a bar establishment. He was transported to the Mono County jail. The 15 year old was released to his grandmother.