Frogs, fish and fires, were on the agenda as representatives from Sequoia Kings Canyon National Park came to the Eastern Sierra this week to talk about upcoming projects.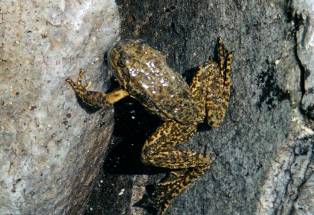 Our nations second oldest national park sits just over the Sierra crest between Bishop and Lone Pine. Usually out of sight and out of mind, staff from this nearby park came to the Eastern Sierra to make sure that people here know what they are up to.
In the next few years, park staff has a number of projects planned that may be of interest to Eastside residents.
In the short term, the Fire Education Specialist for the park explained that this summer the plan is to ignite 13 prescribed fires totaling about 3900 acres, though the actual number will likely be less. The prescribed fires help reduce hazardous fuels build-up and help germinate the seeds of the giant sequoia trees. Staff reports that these projects generally dont send much smoke into the Eastern Sierra, but lighting caused fires such as the Tehipite fire in 2008, do send smoke this way. While there were attempts to control that fire, 95% of the park is wilderness, so unless there is a threat to life or property, the Park Service will take a hands off approach to the wild fires inside the park.
The Park Service is also working on the environmental process to remove trout from some high altitude lakes for the benefit of the once widespread mountain yellow-legged frog. The plan does not apply to the major rivers and streams, but if it goes through, the plan is to remove trout from up 75 of the roughly 560 trout containing lakes in the park. One alternative is to remove these trout with gill nets and electro-shock devices, as has been done in the past, but another cheaper and faster technique is to use a chemical poison to remove the trout.
Another plan headed through the environmental process pertains to the reconstruction of dilapidated back country ranger stations such as the station just over Bishop Pass in Le Conte Canyon.
If you are interested commenting on these projects, go to the Sequoia Kings Canyon National Park website for more information.