Listen to this – "Over 23 million children and teenagers in the United Sates are obese or overweight, a statistic that health and medical experts consider an epidemic."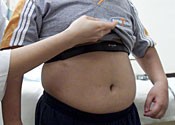 Inyo-Mono Public Health Officer Dr. Rick Johnson issued the word on childhood obesity since September, for the first time ever, is Childhood Obesity Awareness Month. To put it more simply, Dr. Johnson said, "almost half of our youth have a weight problem."
Why should we care about that? Dr. Johnson said the obese or overweight have a short life expectancy. He said this will be the first generation in this country's history who are not expected to live as long as their parents. They are at increased risk for Type 2 diabetes, heart disease, stroke, asthma and breathing problems, cancer, depression and suicide, bullying, sleep apnea and high blood pressure.
Aside from personal misery, the cost is enormous. Dr. Johnson said that direct and indirect healthcare costs tied to obesity and other weight problems add up to about $28 billion in California alone.
So, is it genetic or behavioral? Dr. Johnson said both and that behavioral can gradually become genetic. It's a calories in – calories out kind of thing. If you eat too much, you will gain weight. Johnson also points out the kind of calories consumed make a difference.
Complex carbohydrates like vegetables, fruit and brown rice are more healthy than fast food burgers and sugared sodas. Dr. Johnson suggests that you cut down seriously on sugared drinks that are usually loaded with calories. Go for water and flavor it with fruit.
He also suggests that you get the kids outside and into physical activity not just TV movies, video games, computers. You've got to do something about an epidemic, and again, that's what officials have called the current overweight situation among children and teens.