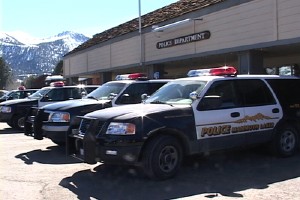 Visitor numbers were up in Mammoth Lakes last year, and crime went down. After police issued crime and traffic statistics for 2013, we talked to Police Chief Dan Watson who is not taking credit for the crime reduction. The Chief said that any police chief who takes credit would make a mistake. The crime rate, he said, will go back up. Watson said large swings in crime statistics are not uncommon. He did note that Mammoth has gone along with the nationwide trend of reduced crime.
The Pew Research Center reported that the national rate of non-fatal violent gun crime dropped 75% in the past 20 years. Homicides went down by 49%. Harvard's School of Public Health reported that not just gun crime but all crime has gone down. Mammoth Police statistics show that in the last ten years, Part I crimes in Mammoth Lakes dropped from 430 in 2004 to 223 in 2012. Within those ten years, the number of crimes did drop, went back up and then dropped again.
The Chief had reported earlier this week that the Town experienced a 27% reduction in Part I crimes plus reductions in injury, Hit and Run, and DUI traffic collisions when compared to last year. Part I crimes include murder, rape, robbery, assault, burglary, larceny and car theft. According to police, all crimes showed a double digit decrease except for auto theft which increased from two stolen cars in 2012 to six in 2013. See our website for the Mammoth statistics.
Asked about the nearly 50% cut in police staff and the impacts, Chief Watson said officer initiated activities were reduced by the short staffing. Traffic citations were down by 30% because of the loss of seven officers.
Chief Watson called the current situation a "good trend with two consecutive years of double digit crime reductions."
Part I Crime Totals for Last 10 Years:
Year Total
2004 430
2005 379
2006 364
2007 377
2008 427
2009 451
2010 331
2011 346
2012 307
2013 223
MAMMOTH LAKES CRIME AND TRAFFIC STATISTICS
CRIME 2012 2013 % CHANGE
Murder 0 0 No change
Rape 3 0 -300%
Robbery 9 5 -44%
Assault 92 64 -30%
Burglary 55 33 -40%
Larceny 146 115 -21%
Motor Vehicle Theft 2 6 +200%
Total 307 223 -27%
TRAFFIC 2012 2013 % CHANGE
Injury Collisions 18 12 -33%
Hit and Run Collisions 37 35 -5%
DUI Collisions 13 7 -46%