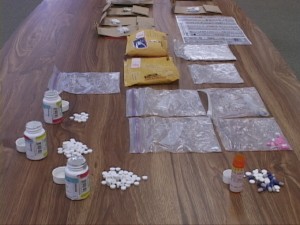 After a two-month investigation, Inyo Narcotics agents, Bishop Police and Inyo Sheriff's officers arrested six Bishop locals Friday on charges related to sales of marijuana and prescription pills, primarily Vicodin.
Officers arrested Andrea Nichole Distel, 29; Richard Norman Best, 50; Roger Ned Hill, 55; Pamela Sue Hill, 50; Lee Hill, 33; and Jennifer Lynn Sandstrom, 26. Officers booked all six in the Inyo County Jail under $50,000 bail each.
In a separate case, INET agents will ask for charges against Sylvia Marie Pavich, 47, of Bishop for possession of a controlled substance. Agents said that they received a call from a concerned citizen about a package delivery.
The citizen reported opening a package that had been delivered to them with 160 white pills inside. Agents said the pills were Vicodin and there was no prescription or return address included. Agents contacted Pavich last Thursday and interviewed her. They will ask the District Attorney's office to file charges.