Nancy Joy Brown 1951-2018
Nancy Joy Brown, 67, born to Ruth McGee Brown and Harry William Brown of Bishop, California. She passed away on July 3, 2018 peacefully in her sleep at her residence. Nancy was strong, bold, fearless, outspoken, kind, giving, concerned, hard working, funny, a quick thinker, easy going, a community activist (harboring Dennis Banks when he was wanted by the FBI) and always willing to help other Indian people.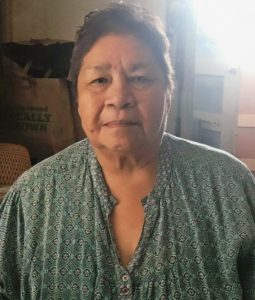 Upon graduation of high school, Nancy went to Los Angeles and then to Oakland for education and work experience. She attended Heald's Business College to gain a certificate to be a key punch operator. She began working as a librarian with the Biology Library at UC Berkeley. At this time, she became involved in the local Native American community; volunteered at the Indian Friendship House in Oakland, sat on the board of directors of the Indian Head Start, Director of the Johnson O'Malley Program in Oakland, and became a foster parent for Native American children. She met and married Mervin Brown of Peach Springs, Arizona. After 15 years with UC Berkeley, Nancy retired and moved to Sacramento, California.
She continued foster parenting for Native children, began working with Bureau of Indian Affairs, 25 years until her recent retirement. Research was her passion. She found satisfaction with helping others find their heritage and family while working with the BIA. "Knowing who we are and where we came from keeps us grounded", she would say. She worked with numerous tribes on their tribal enrollment research, assisting with non federally recognized tribes with research to help with federal recognition, and worked on the research for the Shoshone judgement. In the end, if you were a California Indian she could probably tell you who your family was without having to do the research.
Nancy will be reunited by those that preceded her in death; her mother, Ruth Brown, father, Harry William Brown, sister, Virginia Kay "Pudge" Brown, paternal grandmother, Effie Jones Brown Meredith, maternal grandmother, Helen McGee, great grandmother, Minnie Chiatovich, grandmother Marjorie Jones, aunt Norma Nelson, Ruth Cypher Dewey, Donald Debella and beloved nephew Tyler Brown.
She is survived by her children, Gertrude Lynn Brown, Michelle Brown, and Gregory Iron. Grandchildren, Aaron Brown, Andrew Brown, Anthony Brown, Alexander Brown, Jaelyn Brown, Xochiltl and Wihinapa Iron. Great grandchildren, Jayce Fimbres, Logan Brown and Matthew Fimbres. Brothers Craig Brown and wife Gina Bartlett, Walter Maine and sister Sharon Maine. Cousins Carolyn Stone, Ivan Brown, Charlie Brown, Earl Frank, Pat Nelson and wife Diane Nelson, Pearl Vega, Christine Spratt, Delvin Dewey, and Louann Lovelace. Along with numerous nieces and nephews.
A traditional sweat was held at 300 North Pa Ha Lane on Friday, July 6, 2018 beginning at 7pm. A cry dance was held at 362 Tu Su Lane on Saturday, July 7, 2018 at 8pm. A memorial service at the Barlow Lane Gym on Sunday, July 8, 2018 at 1:30pm with a potluck luncheon to follow. Nancy wished to be cremated and laid to rest at the Sunland Cemetery along side her grandmother Effie Meredith and her sister Pudge. The family will hold a private burial of the ashes.
She will be truly missed for her extensive knowledge of California Indians, her giving nature and open heart. Flowers can be sent to 362 Tu Su Lane, Bishop, California.