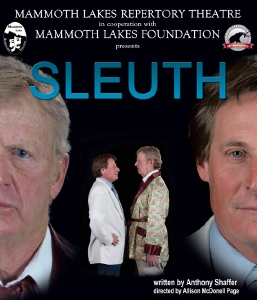 With a name like "Sleuth", you can kind of guess the flavor of the play that will take the stage at Edison Theatre in Mammoth Lakes April 3rd. It's a Tony Award winning play written by Anthony Shaffer. It's a story of twisted lies, outrageous egos, and expensive jewels.
Rick Phelps takes the role of Andrew Wyke the famed and eccentric crime fiction author. Kevin Green plays Milo Tindle, described as a flashy, self-made London hairdresser. The pair dive into mind-bending dramas with each other's lives and mistresses.
"Sleuth" will unfold April 3rd through the 13th at Edison Theatre. Performances take place Thursdays through Saturdays at 7pm and Sundays at 4pm. You can buy tickets online at EdisonTheatre.org. Call for more information at 760-934-6592. "Sleuth" is presented by Mammoth Lakes Repertory Theatre in cooperation with Mammoth Lakes Foundation and sponsored by Paul and Kathleen Rudder and the Town of Mammoth Lakes.