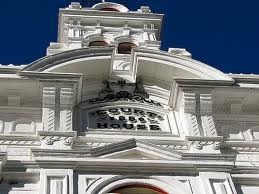 Mono County Assessor Bob Musil lost his election to Barry Beck but was appointed amoung a field of three to the position of Mono County Clerk-Recorder after Clerk Lynda Roberts left her position. Assistant Clerk Linda Romero also left and now Deputy Clerk Shannon Kendall will take the Assistant spot. All this was scheduled for today's Supervisors' meeting.
After Ms. Roberts resigned, the County launched a full external recruitment. Applicants were interviewed by a panel that included Mammoth's Town Manager, Inyo County's Clerk-Recorder, a representative of the Mono CAO's office and the Alpine County Clerk. In September, the Supervisors interviewed the three top applicants and announced appointment of Musil.
Musil is still currently Mono Assessor, but if the Board adopts his contract he will resign and go to work as Clerk-Recorder. The cost the rest of the fiscal year is $105,149. A full fiscal year will cost $150,392 in salary and benefits. The Board agenda says the total savings between Ms. Roberts and Mr. Musil will add up to $64,474.
Meanwhile, the County Administrator recommends promotion of Deputy Clerk Shannon Kendall to Assistant Clerk-Recorder/Registrar of Voters. Kendall's contract will save the County $13,643 for the rest of the fiscal year. Total savings between Ms. Kendall and Ms. Romero's prior compensation package for a three year term would add up to $52,623. Kendall's annual salary and benefits would cost $117,542.
Also on the agenda – the Supervisors will review snow removal policies before the snow flies. The Board has also scheduled a closed session in the case of Dick Luman. Judge Stan Eller just ruled that the County should reinstate Mr. Luman to his former job of diesel mechanic while the County's appeal of an earlier decision by Judge Eller to fully reinstate Luman is pending.