Press release
MAMMOTH UNIFIED SCHOOL DISTRICT ADOPTS TIPNOW™ — A SCHOOL AND COMMUNITY SAFETY REPORTING SYSTEM
 Mammoth Lakes, CA – August 21, 2018 – Mammoth Lakes Unified School District (MUSD), in partnership with the Mammoth Lakes Police Department (MLPD), has signed an agreement with TipNow™, the flag-ship campus safety product from Resiligence, Inc., based in Silicon Valley. TipNow™ is an anonymous reporting system that allows tips to be submitted through a variety of channels for officials to review and follow up as needed.

This new system is an important step in MUSD and MLPD's "See Something? Hear Something? Say Something!" campaign focused on improving campus and community safety. TipNow™ is a tip collection and management system for anonymous tips originating from the mobile-app, text/sms and voice. TipNow™ facilitates automated notification to MUSD campus security personnel and MLPD personnel regarding non-emergency suspicious activity. Emergencies should always be reported by calling 911.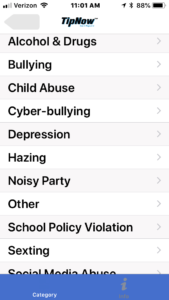 The new reporting system can help identify issues like:
Bullying
Depression
Potential Active shooter
Stalking
Drug dealing
Theft
Harassment
Unsafe conditions
Suicide
Hazing
Illegal substance consumption
The unique aspect of TipNow™ is its ability to keep the identity of the reporting user anonymous.  TipNow™ enables the school administration or the MLPD to anonymously interact with the reporter.
"We are pleased that MLPD and MUSD could partner with a program that will improve both school and community safety.  This new program is available now and easily accessible to download from the App Store.  We encourage our students and parents to become familiar with TipNow™ and to use it whenever they are aware of an issue," stated Lois Klein, Mammoth Unified School District Superintendent.
TipNow™ is also available to the Mammoth Lakes community to use to report suspicious activity around town. The system receives the information, encrypts the reporting phone number or email address, and then sends the information to the Mammoth Lakes Police Department.
TipNow™ can help to identify issues like:
Active Shooter
Gang Activity
Drug Dealing
Theft
IP theft
Domestic Violence
Probation Violation
Child Abuse
Weapons Possession
Missing Persons
"Thanks to the MUSD partnership, TipNow™ can be used by anyone in the Mammoth Lakes community to anonymously report suspicious activities at any time." states Chief Al Davis, "These reports will be sent directly to MLPD for follow up. We strongly encourage our community to use this new system so we can work together to keep our community safe."
Report suspicious activities by using the mobile TipNow™app available on iOS and Android or by using the school specific number:
o   Mammoth Elementary           (760)-965-3070
o   Mammoth Middle School       (760)-965-3121
o   Mammoth High School           (760)-965-3177
o   Sierra High School                   (760)-965-3186
For non-school related reports for community tips, please use (760) 647-8002
For more information on this program, please contact Lois Klein, MUSD Superintendent at (760) 934-6802 or Heather Johnston, MLPD Public Information Officer, at (760) 965-3702.