FEB. 25,2021 UPDATE #2: The victim has been identified as Elizabeth Ann Copeland, age 58, from Benton, Calif.
Sierra Wave was contacted by Catherine Johnson, an aunt of Ms. Copeland, asking for more information on her niece's murder. She shared that she was so tired of reading posts on Facebook and Ms. Copeland's mother (her sister Roberta) "…was just being overwhelmed by all of it."  As were her sons.
Johnson, who is familiar with this area (she was born here!), described her niece Elizabeth this way: "She didn't meet a stranger, kind to everyone.  She made necklaces and earrings, jewelry out of old glass and stones etc. she found in the mountains and desert.  Yard art, and hanging mobiles; That kind of things.   Hippie type, free spirit, old soul, kind hearted."
Sierra Wave offered advice as to whom Ms. Johnson might contact for more information thanks to suggestions from the Mono County Sheriff's Office, which was greatly appreciated.
Several readers and listeners asked if there was a photograph of Ms. Copeland that could be shared. In our small communities, we often know each other or recognize each other from seeing each other at local stores and events. So, we sent several photos to the aunt and she felt the photograph posted to the left was the one that reminded her most of her niece from Copeland's Facebook page.
Given the close nature of our small communities, it always comes as a shock when someone that we know is tragically lost or killed. It is also disturbing in that it reminds us of our own mortality and frailties. But it is also refreshing to see the reactions from most of our Sierra Wave readers and listeners, who invariably offer kind thoughts, memories, and sympathy to the family and friends of the deceased.
Sierra Wave will post Ms. Copeland's obituary as soon as we receive it. Rest in Peace, Elizabeth.
FEB. 21, 2021 UPDATE: William Ralph Wilson, Jr., age 65, arrested for Murder in Benton, Calif.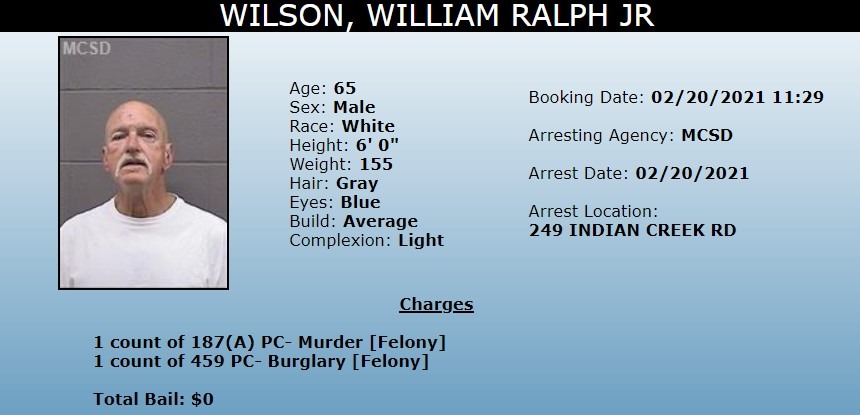 [Original Post] On February 19, 2021, at 9:33 p.m., Mono County Sheriff's Office (MCSO) Dispatch received a call regarding a Domestic Violence in the Benton area. MCSO deputies and California Highway Patrol (CHP) Bishop officers quickly responded to the residence, where they found evidence of forced entry and a struggle. However, no one was inside the residence or on the property.
After an extensive search of the surrounding area, law enforcement located the male suspect's vehicle at a residence in Hammil Valley. The female victim was located in the vehicle, clearly deceased. The suspect barricaded himself in a motorhome on the property.
The Inyo/Mono Special Enforcement Detail (SED) responded, along with assistance from CHP-Bishop and their H-40 Helicopter, Inyo Sheriff's Office, and Bishop Police Department. Mono County Paramedics and White Mountain Fire Medic 4 staged at a safe distance for any potential injuries.
Entry was made into the motorhome by the SED Tactical Team, where they located the suspect attempting to conceal himself. The suspect was arrested without incident and is now in custody in the Mono County Jail.
The names of the victim and the suspect will not be released until the victim's next of kin have
been notified. This is an open and active investigation. Additional details will be released as
they become available, provided the investigation will not be compromised.