MUNDO HUARTE
1928 – 2018
Mundo was born on May 5, 1928, in Lee Vining California to Santiago and Elizabeth. He passed away peacefully at his home in Bishop California on Saturday, April 28, 2018.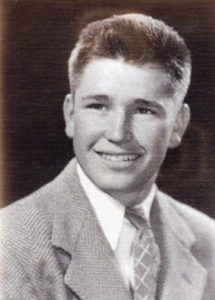 As a child, Mundo lived in Round Valley until his family moved to Bishop where he stayed for the remainder of his life. He loved boxing, cowboying and other sports.
Mundo was drafted into the Army at peacetime and went into the 11th Airborne Division. When the Korean War started, he re-enlisted and went back into the 11th Airborne where he served two more years.
Mundo returned to Bishop where he met the love of his life, Louise on a blind date set up by his sister Pauline. Mundo and Louise were married in 1954 and raised three sons. They were happily married until 2010 when Louise passed away.
Mundo worked for SCE for 30 plus years. After retiring, he had a backhoe service. Throughout his adult life, Mundo was very active in local tribal government, serving on the tribal council and various tribal committees.
Mundo is survived by his son and daughter-in-law Rob and Renee, sons Ron and Raymond, his sister Jeanette and grandchildren Stacy, Jessie, Becca, Raymond and Mundo. He will be greatly missed by his family, friends and all who knew him.
Services will be held on Saturday, May 12, 2018, at 11:00 AM at the Barlow Lane Gym located at 390 North Barlow Lane in Bishop, California.