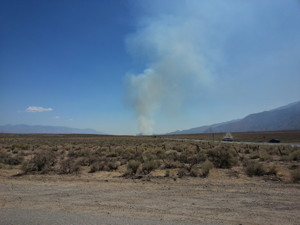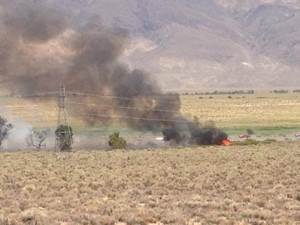 A brush fire ignited Wednesday afternoon causing closure of part of Highway 395 between Big Pine and Bishop.
According to the Inyo Sheriff's dispatch, the fire burned a mile south of Keoughs on the west side of Highway 395 and moved to the north. Keoughs was not in danger. Initial voluntary evacuations were lifted. Inyo County Animal Control helped with relocation of animals at Eastern Sierra Wildlife Care in the area.
Multiple agencies responded to the fire. The Sheriff's Office said due to the drought and high fire danger, all resources are responding to fires in the Eastern Sierra.
Responding to this fire were Big Pine Fire, Bishop Fire, Independence Fire, Mammoth Lakes Fire, Cal Fire, the USFS, BLM, Inyo Sheriff and CHP. 10 to 15 mile per hour winds at the time made the situation more dangerous.
According to Cal Fire, "The aggressive fire suppression efforts by ground and air resources stopped the forward rate spread of the fire at 18 acres." Cal Fire said full containment of the fire was expected last night. Approximately 70 fire fighters battled the blazes. There were no reports of injuries to civilians or fire fighters. The cause of the fire is under investigation.
For public safety and to keep the highway clear for fire equipment, Highway 395 was closed to northbound traffic 5 miles north of Big Pine and to southbound traffic 6 miles south of Bishop for a time. CHP escorted traffic to keep things moving.