From mules to frozen-T-shirt contests and the traveling Vietnam Veteran Wall,  the Eastern Sierra has the holiday covered. First mules. Bishop's 42nd Mule Days event features mule shows, concerts, an art show and all kinds of music.
The Mule Days Parade happens Saturday morning at 10am. The 20-mule team rides as the grand marshall this year. Officials urge the public to show up no later than 9am Saturday for the parade. Detour closures will go into effect at 9:30am and will remain until the parade ends.
Mule Days faced the possibility of cancellation this year, due to a deadly horse virus found in some animals that attended a horse show in Utah and in Bakersfield. Only Wednesday did the State and UC Davis relax their earlier warnings against unnecessary travel with horses and mules. Their last word was to use precautions at horse show. Mule Days has done that.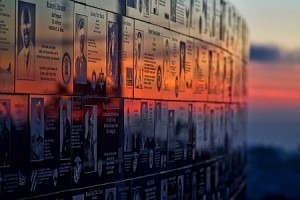 The impact of no Mule Days for Bishop and surrounding communities is not small financial matter. Bishop accountant Randy Van Tassel gave us a rough estimate on the money brought into town from the event. For a crowd of 12,000, the daily money influx sits at around $2 million. Over the three or four days most visitors stay, the town sees between $6 million and $10 million, depending on the crowd size.
Meanwhile, in Mammoth Lakes Memorial Day celebrations involve snow. Spring skiing – still fantastic with a base depth of from 10 to 19 feet. The Mountain has organized live music, parties, snow volleyball, a limbo contest, frozen T-shirt contests (?) and more throughout the holiday.
The Village at Mammoth will host live music on the plaza stage from the Delgado Brothers and Sunday at 8pm a movie – How to Train Your Dragon. Monday from 2 to 5pm, Lava Moon entertains.