Caltrans press release
BISHOP—California Department of Transportation (Caltrans) is again requiring the public to delay setting their lawn chairs along the parade route until the day of the parade. Chairs set out early may become a hazard, blow into the street, block access to businesses along the route and compromise safe passage for pedestrians on downtown sidewalks.
Ropes, chains and other items meant to designate reserved spaces are prohibited again this year due to safety concerns. Caltrans wants to thank last year's participants for their care and understanding in waiting to set out chairs until the date of the event. By doing so, safe access was provided to the public on downtown sidewalks during the days leading up to the parade.
We are again reminding the public to delay setting chairs on the sidewalk (or within the State Right of Way) before Saturday, May 25th, 2019.  Prior to this date, Caltrans will remove chairs or other objects and store them securely at our district office at 500 South Main Street.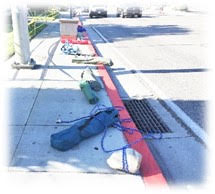 Owners can claim their items during regular office hours, Monday through Friday, 8:00 a.m. to 5:00 p.m. The office will be closed for Memorial Weekend at 5:00 p.m. on Friday, May 24th and reopen on Tuesday, May 28th at 8:00 a.m.
For the latest highway information please visit the Caltrans QuickMap site at quickmap.dot.ca.gov or call the Road Condition Hotline at 1-800-427-ROAD (7623).
#
For the safety of workers and other motorists, please Be Work Zone Alert.
##