Mule Days are upon us here in the Eastern Sierra. People from around the country will bring their beloved animals to Bishop for the annual celebration of the mule, but this year it appears that fewer people will make the trek.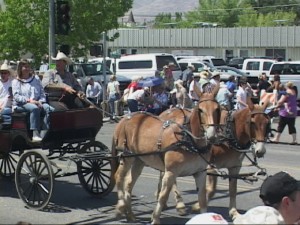 Mule Days Volunteer Barbara Laughon reports that reservations for RV campsites at the Tri County Fairgrounds are down. The reason, as you might guess, appears to be high gas prices.
Of 1100 RV spaces 860 have sold so far this year, about 22% down off maximum capacity. Spaces dont always sellout completely, but staff reports that the last couple of years were better than this year. The Mule Days office has heard from a number of regular visitors who wont be coming this year because of the high gas prices.
Hotel bookings appear to be down as well, but by no means out. The Creekside Inn in Bishop is usually 98% pre-booked for Mule Days. This year the Inn is running at 93% booked for the weekend, but staff still expects the Creekside to be full for the holiday.
The gas prices also work the other way. Laughon reports that on the flip side, the concert has sold especially well among locals, who said they were planning to stay closer to home this holiday weekend.