By Deb Murphy
Locals know the history. The 1968 packing season got a late start due to a lot of left-over snow; not a good thing for Sierra packers. One solution was a splashy opening of the 1969 season with a mule show. That initial effort was one-day and followed a fairly traditional format. Every year, it grew.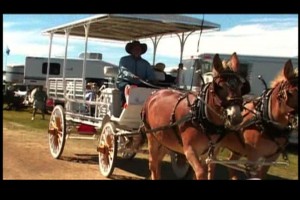 Fifty years later Mule Days is now a six- day party, a celebration of all things mule. The event is now put on by second and third generations of the packers involved in the inaugural event with enough new-comers to guarantee another 50 years.
This year's celebration should break records in attendance. According to Tammy Mandrell, executive director, all the big evening shows have been sold out for weeks. But, entry to the Fairgrounds, all 21 clinics, access to vendors, concerts on the Berger Solar Electric Stage, three days of the I Want to be a Packer program, designed for kids or just walking around to check out the mules—all this is free.
Eastern Sierra Transit has even made it easier to get there with shuttle service starting Friday morning with stops at Joseph's, Jack's, City Park and Vons/Kmart. The schedule and fares are on the transit's website.
The stand-out this year should be an impressive array of hitches. Bobbi Chambers and her eight Belgian mules will be lit up in pink neon Friday night. Ray Woodside from Montana will bring his eight black mules, all with distinctive white stockings. Rick Edney and Luke Messenger will be on hand, each with six-mule hitches.
The ultimate big hitch, Bob Tanner's 20-Mule Team, will be available for a meet and greet at the end of the Sunday afternoon show.
From this morning through Friday afternoon, the Tri-County Fairgrounds hosts a traditional, world class mule show, with entrants from all over the States and as far away as Australia. There are Western rail classes, hunter/jumper classes, dressage, driving, reining, roping, trail, gymkhana—proving mules, and even donkeys, can do anything a horse can do, just a little slower.
The one thing mules and their owners have that horse people lack is a sense of humor. And that's what makes Mule Days special, even for folks who still have to ask what combination of mating equines produces a mule.