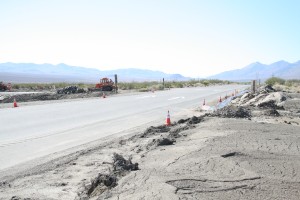 At the end of August a sudden downpour sent tons of mud, debris and water through a canyon of the Sierra and onto Highway 395 south of Olancha. 395 shut down for hours and clean-up continues on the site.
The wave of mud had washed a big rig down into the culvert under the highway. Caltrans officials said crews have removed the truck. The highway now remains totally open, and the slide did not cause pavement damage.
The week after the mudslide, representatives of Caltrans, CHP, BLM, the Forest Service and DWP met in an Incident Command session on the site. It came to light that a broken DWP pipe had added to the water flow across the highway. The pipe normally diverted Haiwee Creek into the reservoir, according to Caltrans.
This week, officials said that water is still being diverted down the edge of the highway from the damaged DWP pipe. A combination of problems had led to the major highway shut-down – the heavy rains, the broken pipe and the fact that a large fire had burned away vegetation in that canyon sometime earlier.