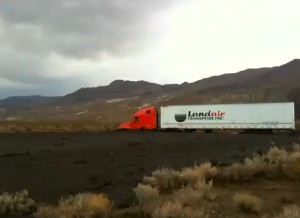 After last Thursday's horrendous flood and mudslide across Highway 395 south of Olancha, Caltrans and others have worked constantly to clear the highway and now to free a big rig that was pushed down into a culvert by the flood.
Susan Lent, PIO of Caltrans, said that the roads are open, but there is a lot of clean-up to do. Intermittent lane closures continue as crews work to clean things up.
Lent said that an Incident Command meeting would take place at the mudslide site on Tuesday among representatives of Caltrans, the CHP, BLM, the Forest Service and DWP. Officials planned to discuss completing clean-up and removal of the big rig which is blocking a culvert.
The initial mudslide had caused complete closure of Highway 395 for several hours. Some motorists headed back to Ridgecrest and detoured through Death Valley although initially Highway 190 was closed due to flooding.
Crews were able to restore northbound and southbound traffic flow, although restricted, by Friday.