Work to clean-up the big mudslide mess on Highway 395 south of Olancha continues. It was last Thursday that a sudden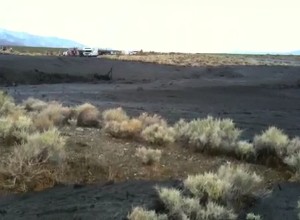 downpour sent a flash flood, mud and debris across the highway, closing all lanes for many hours.
This week, representatives of Caltrans, CHP, BLM, the Forest Service, and DWP met at the mudslide site to assess the situation. According to Susan Lent, PIO for Caltrans, it came to light that a broken DWP pipe had added to the water flow across the highway. Lent said the storm had caused the 100-year-old pipe to break.
The pipe normally diverted Haiwee Creek into the reservoir. Lent said DWP has temporarily diverted the flow so they can fix the pipe. Lent added that the source of the flood and mudslide was the area of a previous fire. So, vegetation was not in place to hold the earth down. As Lent said, the incident involved a combination of problems.
Now, crews will work to free the big rig that was literally washed down into a large culvert under the highway. Other clean-up was also underway.