A group of Mt. San Antonio College students spent a fun day in Mammoth Lakes last week-end. They met Steve Searles and went on a nature hike. Later they visited Manzanar Historic Site. On the way home the driver of the van tried to pass a semi-truck. A terrible accident followed, killing one of the students.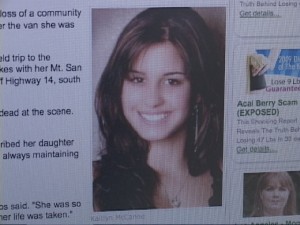 The Pasadena Star News reported that 21 year old Kaitlyn Monet McCanne died in her boyfriend's arms after the van overturned. The news report said a student was at the wheel of the 10-passenger van, with a professor and other students part of the caravan in separate cars.
According to the Highway Patrol office in Mojave, it was just after 5pm Sunday when a student was driving the van southbound on Highway 14 south of Highway 178 East. The CHP said that the driver began to pass a semi-truck in the southbound #2 lane reaching a stated speed of about 80 mph. The passing lane ended as the student tried to pass the truck.
The CHP report says the student crossed double yellow lines into the path of an oncoming northbound vehicle. He steered first to the right and then sharply to the left. The van overturned off the highway. Some reports said a passing motorist initiated CPR. The CHP said that Kern County firefighters performed CPR on the 21-year-old Kaitlyn McCanne. She was rushed by ambulance to the Kern County Medical Center where she was pronounced dead.
Joe Parino of Bear With Us in Mammoth also hosted the students with a presentation of Searles' DVD and other information about Mammoth's bears. Parino said students from Mt. SAC have visited Mammoth in past years and some were on a repeat visit this time.