MOUNTAIN VIEW FIRE NOV. 18, 2020 UPDATE
Incident Website: Click on logo to left
Incident Information: Start / Report Date: Nov. 17, 2020 at 12:15 p.m.
Cause: Unknown
Fuels Involved: Grass, sagebrush and pinyon-juniper
Size: 28,879 acres
Location: Walker, California in Mono County
Fatalities: 1
Injuries: 1
Structures destroyed: 80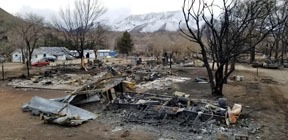 Damage assessments in progress
Percent contained: 0%
Strategy: Full Suppression
Resources: Resources are arriving on the scene: California Type 2 Interagency Incident Management Team 11 is EnRoute.
Current personnel: 198
Current Situation: Yesterday, the Mountain View Fire exhibited extreme wildland fire behavior with wind driven runs, flanking and torching. Today, rain and snow have been reported above 5,000 feet elevation, which has slowed fire growth. The fire is being managed by a Type 3 Incident Management Team.
The goal of wildland fire crews today is to remain focused on protection of the communities of Walker,
Coleville, and Topaz as well as the Camp Antelope Native American community. Crews will try to keep the fire east of U.S. Hwy 395, south of Risue Canyon, west of Desert Creek and north of Mill Canyon Road.
Evacuations / Closures: Evacuation Orders are in effect for approximately 800 residents. An area closure and restrictions are in effect.
Evacuation Center: Shelter assistance and a Temporary Evacuation Point has been established at:
Carson Valley Inn
1627 U.S. Hwy 395 N
Minden, NV 89423
Phone: 775-782-9711
You are not required to report to the Temporary Evacuation Point. However, if you do, please check in first with the American Red Cross to obtain a voucher for your stay. The Red Cross is maintaining a wait list for residents.
Road Closures: U.S. Hwy 395 northbound and southbound is temporarily closed from Emigrant Street in Bridgeport to the Nevada State Route 208.
Assisting Organizations: U.S. Forest Service, Mono County Sheriff's Office and American Red Cross.
Safety Message: Please wear face coverings when outside your vehicle. In addition to dealing with the inherent hazards of fighting a wildland fire, firefighters are taking precautions to prevent the spread of COVID-19 by limiting intercrew face-to-face interactions to what is operationally necessary to engage the fire safely.
There is a temporary flight restriction over the fire and vicinity. It is illegal to fly drones within the restricted area.
Remember, "When you fly, we can't."