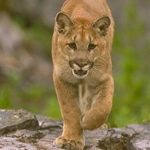 For a while now the Big Pine 411 Facebook group has been reporting several sightings of a mountain lion in and around town, and near the Bakers Creek campground area. One homeowner posted security camera footage captured of a mountain lion in their back yard and there have been reports of a mountain lion sighting near the Big Pine Saddle Club over the past several months.
A recent post notified the Big Pine 411 Facebook group that a mountain lion had killed several goats in town last Thursday night (April 16) at a resident's home on the corner of School Street and Walnut Street. It was reported that family had 2 goats killed and, then later, it was reported that another family had 6 goats killed the following night at the west end of Cornell Street. The dead goats were all apparently just left behind after being killed.
Several domestic cats have also been reported missing in the same areas but could just as likely be simply "missing" or possibly killed by coyotes or some other predator that is in the area. If nothing else, it should serve as a caution to residents to be alert and to make sure their pets are kept safely indoors when possible, especially at night.
It was also reported that a DFW officer was jogging down Old County Road and saw a Mountain Lion at 10 a.m. up the hill from where the road goes from paved to dirt traveling north towards Keough's Hot Springs.
The incidents were reported to the Department of Fish and Wildlife, and Sierra Wave is looking into the matter for more information.
And if any Big Pine residents have information to share on this story, please contact Sierra Wave at [email protected] or call 760-614-0546. You can also leave comments and information on sierrawave.net in the Comments section of the website.
Meanwhile, as the original poster of the mountain lion warning to the Big Pine 411 Facebook group cautioned:
Please keep an eye out and watch your pets.