Caltrans press release
BISHOP – The California Department of Transportation (Caltrans) reminds drivers to be alert of wildlife along roadways throughout Inyo, Mono, and Kern counties. The Eastern Sierra and Eastern Kern County are home to a wide variety of animals – including wild deer and horses in the north, bears and antelope in the south, and burros and bighorn sheep in Death Valley – that often come into contact with the highways and roadways that extend throughout the area.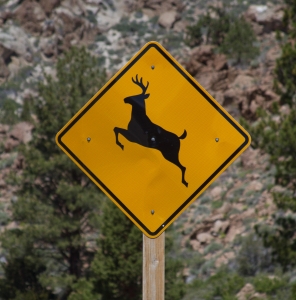 To help reduce collisions, Caltrans offers these tips for motorists in the event they encounter an animal while driving:
Wear Your Seatbelt. It may not prevent a collision, but if can reduce injuries if the inevitable happens.
Keep Center. On a multi-lane road, the center lane is your safest bet for avoiding a wildlife encounter, if local traffic laws permit it. This will give both you and the animal plenty of space. If your vehicle does startle them, driving in the center lane will give you more time to react if one darts onto the road.
Stay the Course. If you see an animal in the roadway, brake firmly and calmly, and stay in your lane. Swerving might cause you to lose control of your vehicle. Keeping calm and steady on the road will also allow you to react more effectively to the often-unpredictable movement of wildlife.
Honk! Some experts recommend that one long blast of a car horn is enough scare most wildlife out of the road.
Pay Attention to Signage and Drive the Speed Limit. Caltrans has erected warning signs throughout the District alerting drivers to the presence of wild animals. Knowing you are about to enter an area home to wildlife, and reducing your speed accordingly, is a great preventive measure you can take to help avoid a collision with an animal.
In 2017, 6,600 wildlife-vehicle incidents were reported to the California Highway Patrol. As Caltrans continues efforts to create safe passages for wildlife across the state, we ask that drivers do their part to help avoid run-ins with wild animals.