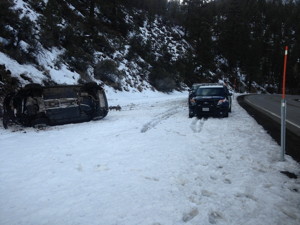 On Saturday, March 1, 2014, at approximately 3: 30 P.M., California Highway Patrol (CHP) Bishop Communication Center received a report of a vehicle on its side in the Walker Canyon area.  The area received snow earlier in the day, however, at the time of the collision the weather was clear and cold.
A CHP officer from the Bridgeport Area office responded to the scene and located the vehicle on southbound US-395, north of SR-108, in an area commonly referred to as reverse curves.  The vehicle was located on the right shoulder resting on its passenger side.  The driver was identified as Mr. Stephen Dempsey, 26, of Mammoth Lakes.  Dempsey, and his dog Legend were traveling southbound US-395, north of SR-108 (reverse curves), when he observed a deer on the right shoulder.
Fearing the deer would run in front of his vehicle, Mr. Dempsey took evasive action.  Mr. Dempsey's vehicle veered right and traveled onto the soft dirt/snow shoulder.  Mr. Dempsey lost control of his vehicle which ultimately came to rest on its passenger side.  Both Mr. Dempsey and Legend were uninjured.  After taking a traffic collision report, CHP personnel transported Mr. Dempsey and Legend to their home in Mammoth Lakes, California.