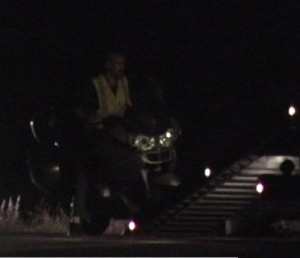 A couple of weeks ago, Caltrans began to warn motorists about migrating deer that might cross the highway. An accident Wednesday night brought that point home.
The CHP said that at about 6:10pm Wednesday, two motorcyclists on BMW touring bikes were traveling southbound at about 60 miles per hour a mile north of Pine Creek Rd. on Highway 395.
A deer cross the highway and one of the cyclists could not avoid a collision. He hit the deer, which was killed, and then veered out of control. The CHP said the cyclist was thrown off the motorcycle.
The cyclist was Ricardo Francisco Crowe Pasch of Guatamala City. He and a friend had rented motorcycles in Florida and were apparently touring the United States.
Mr. Pasch was taken to Northern Inyo Hospital with minor injuries to his right hand and abrasions on his knee.
This accident served as a painful reminder of the dangers of migrating deer and Highway 395.