An elderly couple managed to escape flames as the motor home they were in caught fire and burned completely at the top of Sherwin Grade Thursday afternoon.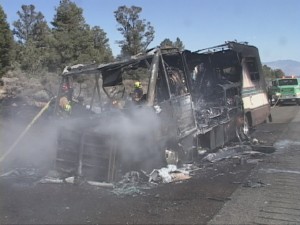 A Caltrans project in the area had narrowed traffic to two lanes and so traffic was backed up for several miles in both directions. Long Valley Fire Department, Cal Fire, the Forest Service, CHP and other law enforcement responded. The motor home fire had spread into nearby brush but was brought under quick control.
Long Valley Fire Chief Fred Stump was on scene and told us what he knew at the time. Stump said that there were two elderly couples in the motor home. He said they were headed up hill and had stopped in Bishop for fuel. Its a gasoline-powered motor home. Apparently it suffered some type of fuel-related, overheating issue, said Chief Stump.
He said one of the women suffered minor burn injuries to her hand and a scrape to her shoulder. The others were not injured.
The cause of the fire remained under investigation.