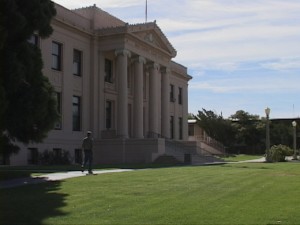 Inyo District Attorney Art Maillet wants public defender Elizabeth Corpora out of the Louis Leplat murder case. He claims she has a conflict of interest. In court documents, Corpora strongly states that Maillet has waited nearly a year to bring up his issues and that she has no conflict of interest.
Maillet had filed a motion to disqualify Corpora as Leplat's attorney. She has represented Leplat since his arrest more than a year ago. Leplat was set for trial in Ventura County on October 18th until Maillet raised this issue.
DA Maillet claims that it would be improper for Corpora to continue to represent Leplat because she was the appointed attorney for one of Maillet's witnesses in the Leplat case, Daniel Casteel. Corpora said she fully disclosed her earlier representation of Casteel in more than one court appearance. In court documents, Corpora says that there is no conflict because she will not use any confidence or information learned from Casteel in her current defense of Leplat.
Corpora's response papers say, "Nothing related to my vigorous representation of Mr. Leplat has caused me or will cause me to betray any confidence or information from Mr. Casteel because there is none to betray."
Corpora does say she will work to impeach Casteel based on information learned after she had earlier represented him. Corpora represented Casteel in cases of embezzlement, phone harassment, possession of methamphetamine and failure to appear.
Corpora writes in court papers that it was Mr. Casteel who decided to become a "snitch for the prosecution" when he wore a wire and questioned her client, Louis Leplat. Corpora claims secretly recording her client violated Leplat's 6th amendment right to counsel at the time.
Court documents also say that reports from the DA indicated that Casteel was running Sierra Gardens Nursery in 2008 and due to his "extremely heavy drug use and unsupervised access to Nancy Roberts' accounts, Daniel Casteel spent $30,000 of her cash and credit." Casteel has apparently not been charged in that case.
The motion to disqualify Corpora was set for hearing Tuesday.