When Inyo County officials met with officials from the City of Los Angeles to discuss water issues, their discussion revealed that LA has designs on increased groundwater pumping in the future and may work with citizens to use Klondike Lake more this summer.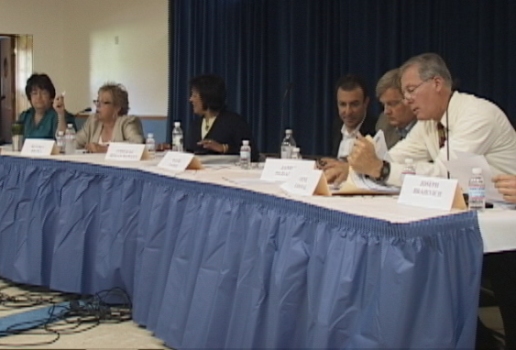 Of particular interest to some local residents is the issue of limited motor boat access at Klondike Lake to control the spread of pipe-clogging quagga mussels. This issue was on the agenda, but the Standing Committee did not make any decision on the matter since local DWP staff is already working with residents to allow limited boat access to Klondike.
Russ Markman, who had helped push the effort to keep Klondike open, told the Standing Committee that he was pleased with the efforts so far, which allow inspected boats on the lake on Saturdays between 11:00 am and 6:00 pm. His concern is that the hours are too short and the wind usually starts at 11:00 am and dies down by 6:00 pm.
Local resident Carol Brown also thanked DWP for being receptive to ideas to keep the lake open to motorized boats, saying that Klondike is a mud hole, but a great mud hole, used primarily by locals.
DWP general manager David Nahai said that he understands that Klondike is a community asset, adding that, with good minds and good intentions there will be some solutions."
The Standing Committee did vote on an agenda item. One problem with the Standing Committee pointed to by critics is that Inyo and LA each have one vote, which would create gridlock if there were a disagreement. In the one action item on the agenda, approval of four monitoring sites along the length of the Lower Owens River Project, the LA Water and Power Commissioner Forescee Hogan Rowles made a motion, which was seconded by Inyo Supervisor Beverly Brown. At normal public meetings, a motion and a second would be followed by discussion and votes, but when there are only two votes needed, the motion and the second did the trick.
Inyo Water Department staff reported progress on the ongoing re-write of the green book groundwater pumping rules. Whether groundwater pumping will go up or down once new rules are agreed upon has yet to be determined, but Commissioner Hogan Rowles appeared to believe that when the new rules are completed, DWP would be able to increase pumping by roughly 20,000 acre feet per year, which would save the Department from having to spend $16,000,000 to buy that amount of water.
Due to the cost to rate payers for not pumping more, we have an interest in moving forward, she said.
Aqueduct General Manger Gene Coufal gave the committee an update on the 75 acres agreed to be auctioned off under the water agreement. The department had tried to auction the first 13 parcels of land, but only one lot sold, due in part to the fact that the land was valued at the peak of the recent real estate bubble.
Coufal said that the 16 acre Hanby Parcel in Bishop is moving forward, and that 54 acres on 24 different parcels could be ready for auction this fall. Manager Nahai said that the auctions were a personal quest to release as soon as possible.
When local resident Scott Palamar asked the LA officials if the Department was still looking to buy a 100 acre piece of land on Oak Creek near Independence, he received a vague answer. Nahai told Palamar that there are no formal agreements, in place and that, well see what the future holds.
In other related news, since the Standing Committee meeting, DWP has announced that the trial period for pre-inspected motorized boats on Klondike Lake has been extended through September 5th.
Right now the lake is only open to motor boats on Saturdays between 11:00 am and 6:00 pm, but additional hours may be on the way. Department Staff reports that a plan to allow motorized boats on Klondike three days a week during the summer is in the works, but for now its just Saturdays.
If you want to get your boat inspected for quagga mussels to use at Klondike the cost is $10. You can schedule an appointment by calling the DWP Office in Bishop at 873-0409.