When the Department of Fish and Game debuted a new computer system for the sale of fishing licenses, about half of the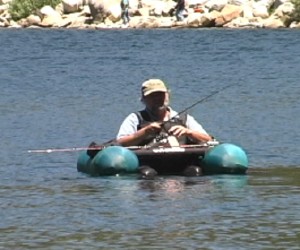 stores and outlets in Inyo-Mono that sell fishing licenses said no more because of the computer. Some in the remaining half say they think the computer will work out fine.
Dan Jacobs of Manor Market in Bishop said, "We think it will be pretty easy and nice." Jacobs said they're training employees on the computer which will be installed behind the front counter of the store.
He explained that the process involves a scan of the fisherman's drivers license and possibly the addition of a physical address. Out of state licenses may take 15 minutes or less. Jacobs said Manor Market and its employees have long worked with computers, so one more won't mean a hardship.
At High Country Market and Hardware in Big Pine, owner Chris Holt called the new computer system "user friendly". He thinks it will work well for his store and will take just a few minutes to operate for a license. Holt points out that California is one of the last states not to work with computers for licenses.
Other stores in the Eastern Sierra say the computers will not work for them, particularly if they are sole proprietors or have few employees. They point to what they believe will be a lengthy process which would disrupt retail sales.
Marty Strelneck of Lee Vining, writer for Western Outdoor News, said it's a matter of public education. "People have to know ahead of time if their favorite stores are not going to sell licenses." Strelneck also pointed out that fishing license purchases can be made online.