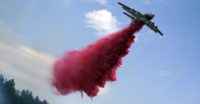 Some human beings have a limitless capacity for optimism. When Eastern Sierra residents started waking up to blue skies last week, how many of them thought "the smoke is gone, it's over."
Well, it's not. Even those "glass-half-full" folks probably knew it, deep down inside.
But, there is some good news: the air quality isn't awful. In fact, according to Great Basin Unified Air Pollution Control District data, it's moderate which translates into only those with health and respiratory issues need to limit outdoor activity.
The Great Basin's PM10 and PM25 levels varied over the last 18 hours, generally rising from Olancha to Lee Vining. The smoke haze is dependent on wind direction. As of Monday mid-afternoon, Lee Vining, with a wind direction of NNW, had the lowest levels of pollutants in those communities measured by Great Basin.
The culprits are now the KNP Complex made up of the Paradise and Colony fires on the east side and the Windy Fire near the Tule River Indian Reservation. The origin of all three fires is lightning-strikes from a storm that blew through last Thursday.
The Paradise and Colony fires have burned 1,037 acres in the Sequoia and Kings Canyon national parks with no containment as of Monday afternoon. Much of Sequoia National park is closed while Kings Canyon is still open. While the fires are not currently near the groves of giant sequoias, they still pose a threat.
The Paradise fire, south of the Buckeye Flat Campground at 5,000 ft. elevation, is being fought from the air. The Colony fire is west of Crystal Cave road.
The Windy Fire was also sparked by a lightning strike in the Sequoia National Forest. At zero containment, the fire has burned 974 acres. Windy is burning near the Tule River Indian Reservation near the west of Slate Mountains, Mule Peak and Orion Meadow Peak.