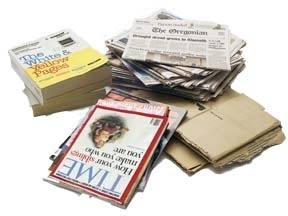 Bishop-Sunland Landfill Expands Recycling Options
Bishop-area residents have a new option when it comes time to safely recycle many of the paper products that seem to come into typical households in a never-ending stream.
The Bishop-Sunland Landfill has installed a recycling that will allow it to accept Residential Mixed Paper (RMP), starting on Monday, Dec. 3. Residential Mixed Paper consists of various co-mingled paper grades, such as old mail, junk mail, paperboard packaging (like cereal boxes), magazines, copy and computer paper, egg cartons, etc.
This recycle bin will further expand the existing recycling opportunities currently available at the Bishop-Sunland Landfill, located at 110 Sunland Indian Reservation Road. The Bishop Landfill and the county's other Landfill and Disposal Sites offer various programs and options for recycling a variety of common waste products.  Please refer to the County of Inyo's Integrated Waste Management recycling webpage at  http://www.inyocountysolidwaste.com/recycle_inyo.html for more information about the variety of recycling programs in place at Inyo County's landfills and Disposal Sites.