In its original press release on the double-homicide of a married couple near Bridgeport on Nov. 9, the Mono County Sheriff's Office stated that "it can be confirmed that neither (of the murdered victims) are local to Mono County or surrounding areas. The crime appears to be specific and targeted, and there is no threat to the community of Bridgeport." Later, it would be determined that the bodies had been on the roadway for less than 24 hours before they were discovered.
The murdered married couple's names were released by the Sheriff's Office on November 10. They were from Burbank, which is why sheriff investigators were certain there was no local connection or threat to the community of Bridgeport. Both victims had a criminal past.
As soon as the names of William Adrian Larsen, 35, and his wife, Yesenia Larsen, 30, (a.k.a., Yesenia Arriaga) were released, information and articles almost immediately started coming out in social media and in numerous news outlets across the country, including KOLO 8 News Now, the closest TV station in Reno, Nev.
The murders are being linked to a missing person case and drugs in June and may have been a "hit job" or "payback", which might explain why the sheriff's office said in its statement that, "The crime appears to be specific and targeted… and posed no local threat to the community of Bridgeport."
According to a report in USA Today (Nov. 13, 2020), William Larsen was reportedly involved in the disappearance of 26-year-old Jered Stefansky, from Redding, Calif., who vanished in June after an alleged $400,000 marijuana deal, according to Jared's mother.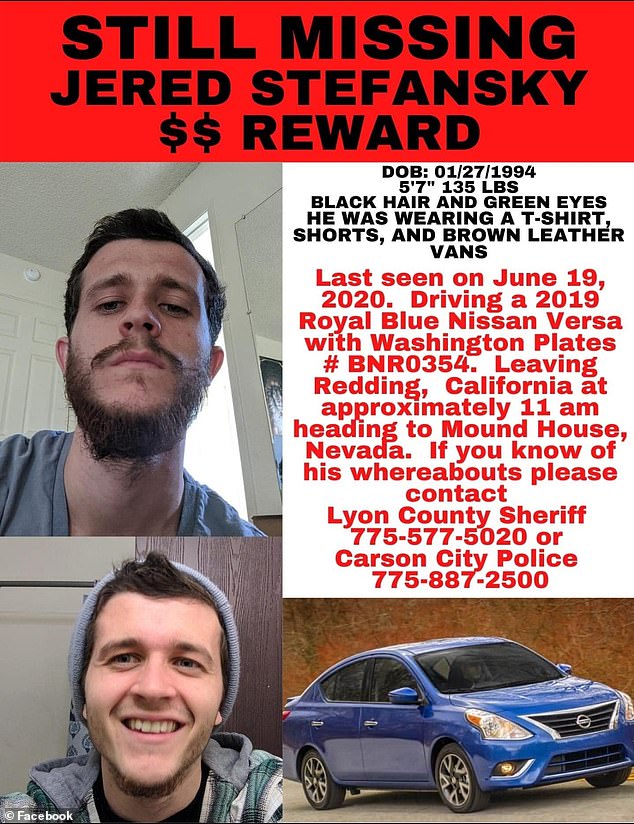 In 2018, William Larson and his wife were arrested in were arrested in Erie, Pa., with 84lbs of marijuana and 1,200 vape cartridges filled with THC (the active ingredient in cannabis) with intent to deliver. William pled guilty and served 6-months of a 24-month sentence, while his wife, known as Yesenia Arriaga at that time, entered and successfully completed a drug diversion program.
Secret Witness
is offering a $2,500 reward for information leading to the arrest and prosecution of the suspect/s wanted in connection with this double murder. Anyone with information should contact the Mono County Sheriff's Office at 1-760-932-7549.