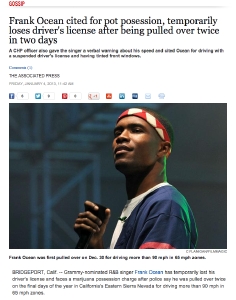 He has written songs for Brandy, Justin Bieber and John Legend. 25-year-old Frank Ocean, described as a rhythm and blues musician, singer, songwriter and rap artist, is known best in the Eastern Sierra for his run-ins with law enforcement around New Year's.
The Mono County Sheriff had reported a couple of weeks ago that a deputy, with help from a Highway Patrol Officer, had stopped a black BMW for speeding near Tom's Place on New Year's Eve. The report said Frank Ocean was in that vehicle and was cited for possession of a small bag of marijuana. He was cited and released with a report going to the District Attorney.
News later got out in the New York Daily News that Ocean was also pulled over by the CHP on December 30th as he drove north near Keough's on Highway 395. The Daily News story said a CHP officer gave Ocean a verbal warning about his speed and cited him for driving with a suspended driver's license and having tinted front windows. That same story reported that a passenger drove the vehicle away.
According to the internet, Ocean had lived in New Orleans and was influenced by the local jazz scene. After Hurricane Katrina hit in 2005, Ocean moved to Los Angeles. He was awarded album of the year by 2012 Soul Train Music Awards for his album, Channel Orange. Ocean made headlines last year when he announced his "same-sex attraction." Reports said he became one of the first major African-American artists to announce his homosexuality.