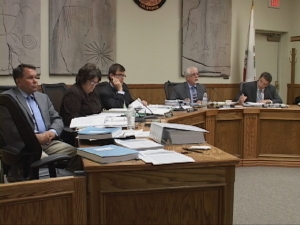 Short of getting the Department of Water and Power to admit that groundwater pumping lowers the water table and kills plants, the currently proposed resolution to the Blackrock 94 dispute does reduce groundwater pumping and embarks on a prescribed burn project to restore 665 acres of meadow. At least one citizens' group and some individuals say the resolution lacks specific details and goals to impose on DWP.
At the Tuesday Board meeting, Water Director Bob Harrington held a workshop for the Supervisors on the proposed resolution to the long-time dispute. The Standing Committee of LA and Inyo had already accepted the resolution. A final vote by the Supervisors and DWP Commission will be required before it becomes final. Inyo officials found themselves in a familiar place. They faced ongoing litigation and negotiations with an uncooperative DWP and no relief for the Blackrock parcel or a go for a compromise.
Bottom line – the Inyo Water Department found data to show that groundwater pumping had killed vegetation on the 330 acre Blackrock area. DWP insisted it was dry cycles of weather. An arbitration panel was hearing both sides. Water Director Harrington pointed out that even if Inyo won the arbitration, DWP could appeal it to Superior Court or Inyo would then be stuck trying to work with LA staff on a mitigation plan. All of which, he said, could take a long time. Meanwhile, no help for Blackrock.
Terry Russi of Bishop said the resolution "lacks a stated goal." He said the document also fails to name things to recover vegetation in Blackrock 94. Russi said there is nothing said about how long DWP would reduce pumping at Blackrock.
In a letter to the Board, Owens Valley Committee Vice President Daniel Pritchett also said the settlement lacks a goal like raising the groundwater to a particular level. Pritchett also expressed concern about how long DWP will maintain a lower pumping rate.
Both Russi and Pritchett said monitoring of progress on the burned area and in Blackrock should be jointly monitored and open to the public. Supervisor Jeff Griffiths asked where the monitoring would take place. Water Director Harrington said there will be a "general effort to improve monitoring throughout the Valley." Harrington also said that to questions about goals, he would point to the goals of the Long Term Water Agreement. A number of citizens have said those goals are too general and unenforceable.
Harrington maintained that there are "some very good elements for Inyo County" in the proposed settlement – like range burning and reduced pumping. The Supervisors generally approved the fact that something will be done for Blackrock. Now, it's up to DWP to produce an environmental document for both boards to examine.