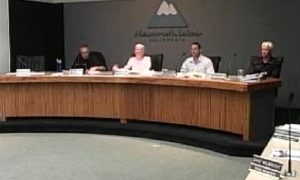 Once again, a lot of repetition  at the Mammoth Town Council meeting Wednesday night.  Strangely, Assistant Town Manager Marianna Marysheva-Martinez once more stood up and talked about the same budget points.  She repeated many of the same things she has said at previous meetings, pointed the public to a budget document on the Town website and talked about the same plans to cut nearly $3 million out of next fiscal year's budget.  The Mammoth public was largely absent.
Martinez did, for the first time, say that the consultants' fiscal forecast shows that after the budget reduction plan is in place, in the first 5 years, $3.6 million in net funds will be generated.  Then she said after 5 years, $550,000 annual surplus would be available to satisfy MLLA and other creditors.  That was the only new information.
Martinez repeated the same discussion that employee pay concessions would theoretically save $1 million, departmental reductions – another million.  The budget plan would cut 10% from Tourism, Housing and Transit, raise $500,000 more in TOT enforcement, cut road rehab by $750,000 and other cuts.
The Assistant Town Manager did say that once the Town confirms the Budget Reduction Plan it will "likely be in place a long time," she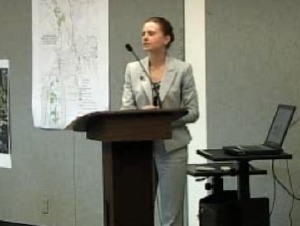 said.
Nothing new about MLLA was revealed.  Town officials remain in mediation with other creditors.  The Budget Facts document on the Town website also says that "In the event that mediation is unsuccessful, the Town may then seek Chapter 9 bankruptcy protection."
Rick Phelps of High Sierra Energy Foundation objected to the plans for a $12,000 cut in his organization's funds from the Town.  Phelps reasoned that the tangible benefits of the Foundation warrant continued funding.  Council members said nothing.
They also said nothing to Mammoth Police Officer Luke Schwartzkopf who stood up during public comment to say how sad he is about the mess the Town finds itself in.  He said, "The fabric of our Town has been ripped out from this judgment and budget problems."  He also said, "Some of you folks have let us down."  He named "big time" mismanagement and the need to hold some accountable.  Schwartzkopf said he feels he's been put in an adversarial position, referring to the mediations over employee concessions.  He asked the Council to go easy on the police.
The next Council meeting is scheduled for June 6.  The next mediation session is set for May 29th.