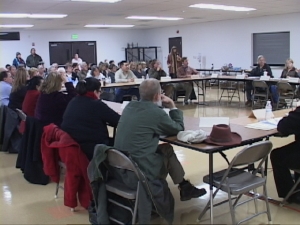 Though recent reports on average daily attendance look better, the small number of high school students at Owens Valley School in Independence earlier edged the district to a dangerous point – closure of the district. That state of affairs prompted the current look at consolidation of Owens Valley with either Lone Pine or Big Pine. Another meeting will take place Wednesday night.
Last week, the large Consolidation Study Committee met on the Owens Valley campus. Officials heard members of the public ask for the legally allowed waiver that would keep the school operating as it now is. County Superintendent of Schools Terry McAteer said the County Committee on unification could place a consolidation measure on the ballot. McAteer said it is in the best interest of Owens Valley to look at options before the district is forced to close.
Owens Valley Superintendent Joel Hampton wants to keep the high school open by promoting it as an academy. He asked for time to build the program and attract more students. Hampton said the academy focuses on college prep. Hampton said, "We can do things that in a larger setting can't be done."
Consolidation would mean a part of the Independence property tax would go to the other school district. In the case of Lone Pine, which has a deal with Sierra Sands School District because of the Coso Geothermal, around $500,000 of Independence property tax money would go to Sierra Sands.
Other discussions focused on keeping the elementary school open, regardless of the high school. Another meeting of the Consolidation Study Committee will take place tomorrow night at 6pm at the Inyo County Superintendent of Schools Office at 555 South Clay St. in Independence.