It could be another two weeks before the Inyo County Sheriffs Department decides whether or not to dig for possible Manson Family victims at the Barker Ranch. In recent weeks, the Sheriffs Department enlisted the help of cutting edge forensic scientists to pour over the ground of the Death Valley ranch in search of hidden graves.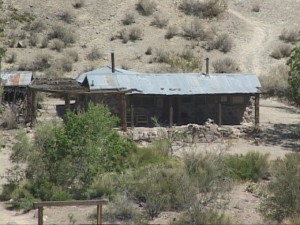 Over the years there have been many attempts to find murder victims at the Barker Ranch. This latest round of high tech testing in the desert started a year ago when Mammoth Police Sgt. Paul Dostie ran his search dog at the ranch where the notorious Charles Manson Family hid out awaiting the apocalypse after their Southern California killing spree in 1969.
Now, what started with the noses of dogs, has led to a forensic science fair in the desert as experts in the field flocked to the Barker Ranch to help the Sheriffs Department determine if there are actually bodies buried there.
Inyo Sheriff Bill Lutze reports that the scientists used the very best in forensic technology", further stating that this is the stuff of televisions CSI series. Investigators used portable ground penetrating radar, magnetometers, lasers, and a portable gas chromatograph mass spectrometer in the search for signs of graves both above and below the ground.
One piece of gear, the ALS laser, lights up the desert at night causing bones to literally glow at a great distance for searchers wearing special orange tinted glasses.
With equipment so cutting edge that does not exist in the market place, Sheriff Lutze says that this case will dramatically alter how police agencies search outdoor crime scenes in the future.
Lutze reports that scientists from the Utah State Attorney Generals Office of Investigations, the Uintah County Sheriffs Department, and Evident, Inc, a private lab in Virginia, all donated their time and equipment to search the Barker.
With this latest round of testing in the desert wrapped up, its time to pour over the information gathered. Sheriff Lutze says that he should have the decision to dig or not by about May 9th.