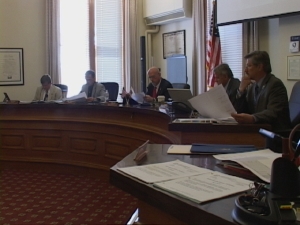 Last week, Mammoth Mountain CEO Rusty Gregory came to the Mono Supervisors meeting in Bridgeport. He put out his plan to re-open June Mountain, add snow-making and a new Chair 1. Citizens questioned him, and he talked for three hours. This week, the Board has placed June Mountain on the agenda again but only for new information. It is the last item on the agenda.
Supervisor Tim Alpers, who represents June Lake, told the group last week that "trust has to be built step by step." He said the June Mountain action plan needs fair and thorough hearings with "no back door deals." He said after this week's agenda item on June Mountain, he intends to "take all the information and come back to the Board with recommendations on a policy level."
Last week, Supervisor Larry Johnston said Rusty Gregory's three-point plan was "close to a home run." Supervisor Tim Fesko called it a great opportunity, and said the community has to determine what it wants. Said Fesko, "We're here to help but not necessarily with money."
Supervisor Fred Stump had said he was "less skeptical than before." He told Rusty Gregory he would like to see his list of "maintenance and improvements." Supervisor Chair Byng Hunt had said that trust will have to build and that June Lake is "an economic driver for the County."
In other County business on Tuesday, the Board planned to consider approval of a two-year contract with Inyo Auditor Leslie Chapman to serve as Mono Director of Finance. Cost for a full year is $214,237. About $139,000 is salary and nearly $75,000 goes for retirement and other benefits.
The Board will consider sending comments in on the Merced Wild and Scenic River plan and EIS. That plan could remove some popular features in Yosemite National Park but would also add new ones.
The Board planned to address additional trout stocking by Inland Aquaculture Group before the opening of fishing season. That item would cost just over $19,000 which is available in fish enhancement funds.