Caltrans is currently at work on roughly $70 million dollars in road improvement projects in the Eastern Sierra, but this is the season for laying pavement and there are other projects that complicate our ability to get around the region.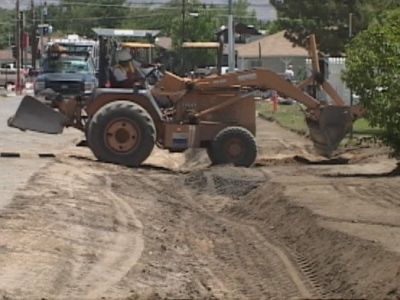 In the City of Bishop, taking a turn off Main St. onto Grove leads to yet another navigational challenge as the Grove St. sidewalk improvement project is now under construction. This $1 million project will lead to new sidewalks between Main Street and the Elementary School at the far end.
The project is funded by gasoline taxes and City money slated for water and sewer work, according to Public Works Director David Grah. Along with the new sidewalks and pavement new water line will be installed the length of the street as well.
Some large old trees were cut down to make way for the new project, a fact that led one Bishop woman to chain herself high in an elm tree in protest of the removal of trees to make way street projects in town. When the project is done, Grah reports that about 80 new trees will be planted on Grove Street.
Right now crews with Beebe construction have removed the old side walk, where there was sidewalk. Concrete work is expected to start next week, according to Grah. The project is scheduled for completion in about two and a half months.