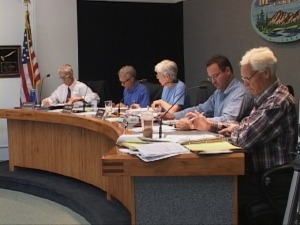 The Mammoth Town Council will hold more closed sessions on the continuing negotiations with Mammoth Lakes Land Acquisition over the $42 million court judgment debt.
In a special meeting scheduled for 1:30 pm Wednesday, the Council's only item is a closed session on MLLA matters.  Last week the Council also met in a special closed session on the same topic.  Earlier, Mammoth Financial Consultant Marianna Marysheva-Martinez had said that MLLA sent the Town a proposed settlement in mid-December.  Last week, she said, the Council planned worked on a responding proposal.
Tuesday, Martinez said that the Council did not have enough time last week to complete a counter proposal.  She said Wednesday's special closed session was expected to last for three hours, from 1:30pm to 4:30pm.  If more time is needed, the regular Town Council agenda Wednesday night includes a standing closed session item on MLLA.
"It is our joint hope," said Martinez, "that we will come out of our sessions with a counter proposal for MLLA."  The Town began actual negotiations with MLLA more than 3 months ago.  Officials still hope for an agreement on the amount and terms the Town will have to pay.
At the regular Town Council meeting Wednesday, the agenda includes a 5pm workshop with the Recreation Commission on Measure R applications.  Under public presentations, Stacy Corless planned to give an update on the organization, Friends of the Inyo.