Air Service isn't the only transportation news here. The bus system now goes farther south and north. We can now get there from here.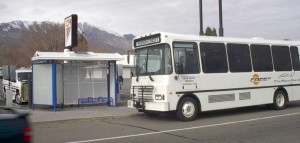 Eastern Sierra Transit Authority officials say that with help from neighboring transit agencies and federal funds, the CREST bus route will be extended starting January 2nd.
It's tough for people without cars to get from one town to the next within Inyo and Mono, but travel to places like Reno or Los Angeles have seemed out of the question. Not any more.
The CREST Route South will continue to operate on Mondays, Wednesdays and Fridays, but the service area will extend from Mammoth Lakes to Lancaster. The bus will stop in Lancaster at the Greyhound/Metrolink Station, where passengers will have direct connections into the Los Angeles area.
Those who want to go into Ridgecrest can transfer from CREST to the Ridgecrest Area Transit in Inyo Kern. Passengers will have about three and a half hours to conduct business, go to appointments or shop before they return.
The CREST Route North to Reno will continue to operate on Monday, Tuesday, Thursday and Friday. The CREST North will connect with the Lone Pine/Bishop Route which makes travel possible between Lone Pine and Reno., Plus, you can make stops at both the Reno/Tahoe International Airport and the Reno Greyhound Station.
Still the least expensive way around – the bus. Call 872-1901 for more info.