The tragedy at MMSA April 6, 2006 left a deep, emotional scar in the families and friends of Ski Patrolmen who died from toxic fumes emitted by the volcanic vent on the Mountain. The Ski Area and others have worked to honor the bravery of those who died.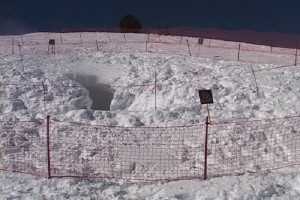 On Saturday, August 25th, MMSA will dedicate a permanent stone monument at the summit of Mammoth Mountain in memory of Walter Rosenthal, James Juarez and John Scott McAndrews, the ski patrollers who lost their lives.
The public is invited to the August 25th ceremony which will start at 8am. You do need to RSVP at MammothMountain.com/dedication.
The monument was designed by local artist Larry Walker with input from the MMSA staff, Ski Patrol and families and friends of the fallen patrollers. The Ski Area says that the memorial is in a location form which visitors can overlook Mammoth Mountain and beyond from the Minarets to Crowley Lake. The summit location was chosen for its inspiring 360-degree view and year-round accessibility.
The 2006 tragedy was widely reported on and CalOsha conducted an investigation and issued violations and fines for MMSA's alleged failure to implement safety procedures. The Mountain appeale, and a citations appeal pre-hearing is scheduled for September 24th, according to CalOsha. J At that time, officials will examine evidence to determine if the3 case will be settled or move on to a full administrative hearing.