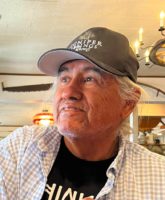 Monty Justo Bengochia entered into eternity on August 9, 2022. He was second born to Wilbur and Harriet Bengochia on March 28, 1951, in Bishop, California. Monty grew up on the Bishop Paiute Indian Reservation, attending Bishop public schools. He attended several colleges where he played Rugby and
learned to Mt. Climb and the challenge of a good chess game. Still, it is basketball that people remember him loving the most.
He had several career paths in his life; he worked for the USFS as a smoke dancer, Youth Counselor, and Tribal Waterman; he has recently served as the Bishop Paiute Tribe Historic Preservation Officer and other jobs. All his career paths led him to the leader and man the community came to know. He was passionate about paya (water) rights, food sovereignty, and cultural/environmental preservation. Monty advocated for the youth and for the self-sufficiency of tribal people.
Monty worked for the people; he served several terms on the Bishop Paiute Tribal Council, the Toiyabe Indian Health Project Board, Owens Valley Career Development Center, and Owens Valley Indian Water Commission. He traveled across Indian County advocating for land/water rights and the sovereign rights of the American Indian people.
Monty was preceded in death by his father, Wilbur Bengochia, his mother, Harriet Bengochia, Brothers Mike Bengochia, Wayne Bengochia, George Bengochia, and Sister Vicki Bengochia. Nephews, Broady Bengochia and Ace Bengochia. First cousins Raymond Torres and Lance Herrera.
Monty is survived by Sister Patricia Bengochia, Brothers Tony (Jean) Bengochia, Randy Bengochia, Shawn (Lori) Bengochia, Nephews, Jerry Bengochia, Owen Bengochia, Gabriel Bengochia, Gannon Bengochia and Everett Bengochia. Nieces, Lavina (John) Banning- Bengochia, Sarah Bengochia. Togo to Great Nephew, Broady Banning-Bengochia, Great Nieces Paunibu and Johnnie Banning. Aunts, Kathleen Delgado and Francis Fimbres. Numerous relatives throughout California and Nevada. Raised as a daughter, Tenya Motley and Togo Takota Motley. Monty impacted the lives of many and will be missed by family and friends.
Funeral Service will be August 20 th at 11am at the Barlow Lane Gym.
Crydance will be held on August 19 th on Nuumu Lane.