When he was campaigning for office, Mammoth Supervisor Larry Johnston learned that construction workers had sunk into the doldrums, families were moving out of town and workers had to go out of town in search of work. Johnston considered a basic level of need to keep the construction industry going and salvageable over the long-run.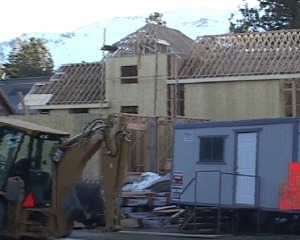 With Supervisor Johnston's help, the County came up with what they call a construction stimulus package. The Board of Supervisors recently voted unanimously to okay the program which waives plan check fees and the building permit fee calculated from the first $200,000 of project valuation.
Officials said this gives emphasis to smaller projects since in the current economy they are the most likely to take place. Officials say they will waive fees for up to six months. They estimate that the program provides savings up to a maximum of $3,328 per building permit on a first come, first served basis.
Supervisor Johnston added that the Board is trying to "put people to work through the few means available to local governments." Tim Flynn, who heads the Contractors' Association had supported this measure. Flynn had also asked the Mammoth Town Council to consider a waiver or reduction of fees. That item has not yet made it back on the Town Council's agenda.