Science has found that as much as 89% of adult smokers began as teens, so the push against selling tobacco to minors has a health-based motivation. This summer, Mono County deputies and Mammoth Lakes Police conducted a tobacco sting operation and found that employees at four Mono businesses sold tobacco to minors.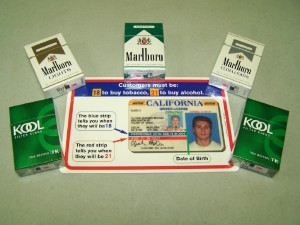 According to Nancy Mahannah, Mono Health Promotion Division Manager, investigators from the sheriffs and police departments supervised three 17-year-old decoys who tried to buy tobacco at every store in Mono County.
One store in Walker, one at Twin Lakes and two liquor stores in Mammoth sold to the minors. Officers said that in every case, clerks checked for ID, but the four cited failed to note that the decoys didnt turn 18 until 2010. Provisional age until 2010 is marked with a blue strip on each minors license.
Each clerk was issued a citation and ordered to appear in court. They could be fined as much as $200. The periodic tobacco retailer compliance survey is a cooperative effort among the sheriffs, police, district attorneys office and Mono County Health.