Most crimes in Mono County happen in the southern end, mostly in Mammoth Lakes, but it's a long, long way to the county jail in Bridgeport, which is, in itself, overcrowded.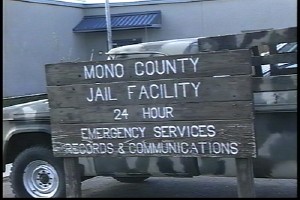 With that in mind, Mono Supervisor Vikki Bauer asked her fellow Supervisors to join her in an effort to begin financial preparations for a South County Jail Facility.
Supervisor Bauer said that "we keep looking away from the problem." The current problems with overcrowding aren't going away, she said, and a project as large as a new jail is not going to "happen by accident."
Bauer wanted to add a line item to the budget that would set aside funds for preliminary work, but she wasn't able to convince the other Supervisors to set specific money aside.
Supervisor Bill Reid was surprised that after three days of budget hearings, jail funding never came up. Reid called the assumptions about needing a new jail "premature," adding that the county should look into other alternatives including "double bunking and quicker release" of inmates.
According to the 2007-08 Mono County Grand Jury report, the jail is already utilizing an "early release" program to combat overcrowding, and "the need for a jail or holding facility in the south county cannot be ignored."
Mammoth Supervisors Tom Farnetti and Byng Hunt agreed with Bauer on the impending need, but they both felt that a comprehensive needs study must precede any financial investment.
Although Bauer did not get her requested line item, she did manage a clear step forward, as the Supervisors directed staff to prepare a request for proposals on a jail needs assessment.